Introduction
In this post, we all talk about how to make the rainwater harvesting working model for your school exhibition or science fair/exhibition very easily at home completely free.
First let us understand what is rainwater harvesting, Rainwater harvesting is the process in collecting the rain water mostly in the house/office/any building roof in the urban areas.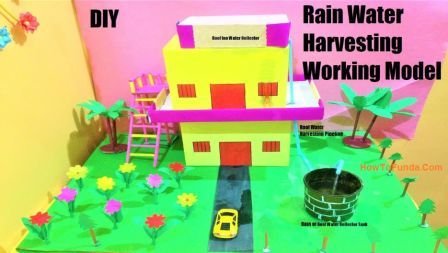 Water is collecting via the pipes from rooftop to the ground via pipes so that this water does not get into the gutters or mix with wastages so that you can reuse this water for the daily chores.
In this video we show you how to make a working model of rainwater harvesting step by step so that you can easily understand the rainwater harvesting model
Materials Used
Color Paper
Color
Glue Gun
Cardboard
Waste Bottle (to store rainwater)
Toy Cars (to use the rainwater to clean the car)
2 Big Waste Boxes
1 Cloth box
1 Small tub/Container to Store Water on the top of the roof
Fevicol
Straw pipes
Glue sticks
Scissor
Refer the resources/tools page section to find out where you buying it at reasonable cost.
Questions?
1. why rainwater harvesting?
Rainwater harvesting is great ideas for the mankind where the water resources are scarce
2.What are the benefits of rain water harvesting?
Rainwater harvesting reduces the usage of the drinking water pumped by the municipal corporations. This water you can easily use for landscaping, toilet flushing, and laundry.
3. How does the rain water harvesting system helps us in the long run?
With this system, water is soaks 90% into the ground. This reduces the water being run in the stormwater drains so that it reduce flooding, erosion and groundwater contamination. This reduces the taking of water from our lakes, reservoirs and rives effects increase in the groundwater.

4.Why do we need the rain harvesting neccesary for every house?
The rainwater harvesting allows to collect the large amount of rooftop water which is free from any contaminations or the mix of any the collection of large amounts of water.
Detailed Step By Step Video Show How To Make Rain Water Harvesting Working Model
Conclusion
With rainwater harvesting method you can avoid wasting of water is flowing to drains where you will be collecting at home and can be reused later and water goes inside grounds that helps to boost the water table of earth