In this post I will be writing on how to make the eco friendly house using solar panel and windmill energy working working model
Creating an eco-friendly house model using a paper cup house with a solar panel and windmill using a DC motor, 9V battery, switch, and fan blade is a fun and educational project. Here's how you can build this model: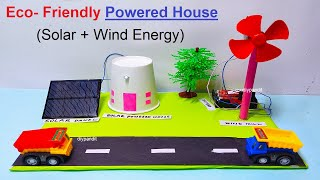 Materials You'll Need:
Paper cups (for house structure)
Small solar panel (for rooftop)
Miniature windmill kit (with DC motor, fan blade, stand)
9V battery and battery clip
On/off switch
Craft knife or scissors
Hot glue gun and glue sticks
Craft supplies for decoration (markers, stickers, etc.)
Step By Step Guide to Make eco friendly house – solar panel and windmill energy working model
Prepare the House:

Use one paper cup as the base and another as the roof.
Cut windows and a door in the cup that will be the house's walls.

Attach the Solar Panel:

Glue the small solar panel onto the roof of the paper cup.
Connect the solar panel's wires to the DC motor.

Assemble the Windmill:

Follow the instructions in the windmill kit to assemble the fan blade, DC motor, and stand.
Position the windmill near the house.

Install the Battery and Switch:

Attach the 9V battery clip to the battery.
Connect the battery clip to the DC motor and the switch.
Place the battery and switch inside the house.

Decoration:

Decorate the paper cup house with craft supplies to make it visually appealing.
Add details like windows, doors, and designs to the house and windmill.
Model Interaction:
Turn on the switch to power the DC motor.
The solar panel and windmill will spin, demonstrating the concept of using renewable energy sources to generate power.
This eco-friendly house model effectively illustrates how renewable energy sources like solar and wind power can be utilized to create a sustainable living environment. It's a creative way to learn about clean energy concepts and their applications in real-life scenarios.
#ecofriendly #solarpoweredhome #windpower #scienceexhibition #scienceproject #sciencefair