Introduction:
The plant cells are called as eukaryotic cells that are present in the green plants. Plant cells are very different from the animal cell structure.
The plant cells have many categories which forms the root, leaves, stem. They also have reproductive structures which many other types of cells within them.
The crucial process that happens in the plants is photosynthesis. For photosynthesis, the plants use the help of cellulose, pectin and plastids.
These are present as the lining to the cells which are formed outside the cell membrane.
There are many types of plant cells and tissues, they are parenchyma, collenchyma, sclerenchyma, xylem, phloem, epidermis. Plant cells also have an inner strong membrane.
In this video, we show a 3D model for plant cell for science exhibition at school. Here we use very simple materials that are easily available.
Materials Used to Make Model Plant Cell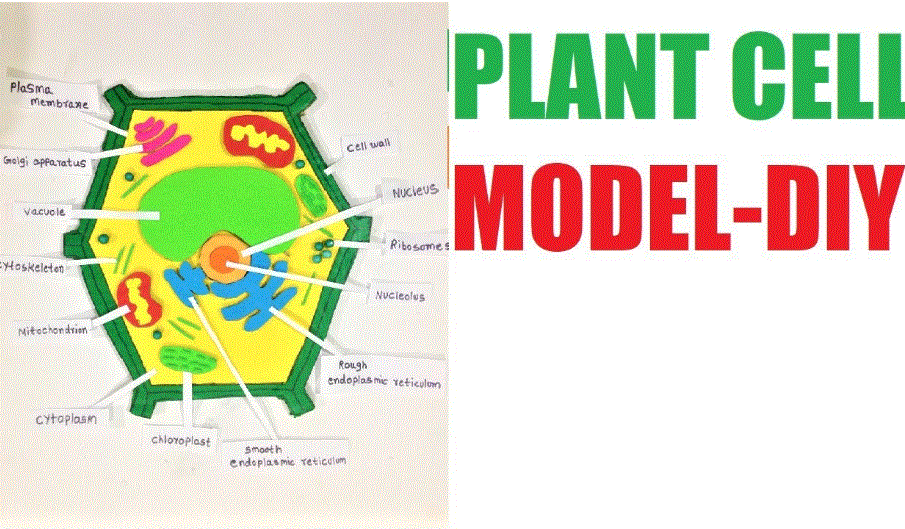 Hot Glue Gun
Pencil
Card board
Liquid glue
Yellow chart sheet
Sketch pen
Orange, green, red, blue, pink colour sheet
Scissors
Thermacol Balls
You use the resource/tools page section to find the tips where you can buy these materials used at a reasonable cost.
Detailed Video Show How To Make Plant Cell 3D Model for Science Exhibition
Prepare for Science Fair Questions & Answers – Plant Cell Model DIY
What is the function of a plant cell?
A. Plant cells are the basic unit of part in the Plantae, that is the plant kingdom. The plant cells carry out all the functions that is necessary for the survival of the plants. Plants through the process of respiration in the mitochondria produce energy molecules.
2. What are the types of cells in the plant?
A. There are five types of cells in a plant, they are parenchyma, collenchyma, sclerenchyma, xylem and phloem cells.
3. What does the plant cell structure contain?
A. The plant cell structure has chloroplasts, large vacuole and the cell wall.
4. Explain the function of chloroplasts?
A. Chloroplasts carry out the process called as photosynthesis, using the sunlight, air and water to generate energy molecules.
Conclusion:
Plant cells have tiny structures called as organelle that perform various function in coordination with each other.
The plant cells are also called as eukaryotic cells. Proteins in the plants are processed in ribosomes, modified in endoplasmic reticulum and sent in to the vesicles.
Mitochondria and cytosol also play a very important role in the plant cell function. Cytosol is a liquid that has all the nutrients, potassium and small molecules.
Thus, the tissues and cells put together help in the proper functioning of the nucleus and producing the healthy plants.