INTRODUCTION
In this topic, we are going to show you how to build a hospital model at home for your science project or exhibitions.
This homemade science experiment is done using materials like cardboard, papers, colors and hot glue gun which is easily available at home at low cost.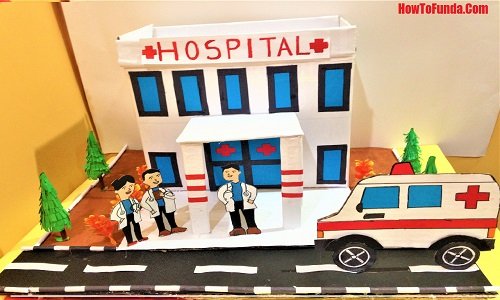 Overview of Hospital
Hospitals are health care institutes that provide patients treatment with specialized medical, nursing staff and medical equipment.
A general hospital is the best-known type of hospital which mainly consists of emergency department to treat urgent health problems.
A district hospital consists of large number of beds for intensive care and more beds for patients who need long term care.
Types
General and acute care
District
Specialized
Teaching
Clinics
How to make a hospital model for a school project at home step by step video?
In this video, we will show steps by step video instructions on how to build a hospital model at home easy way.
First take an empty rectangular shape waste cardboard box and stick white chart paper on top of it with the help of fevicol.
Split the rectangular surface into four parts with the help of scale and pencil.
Take a medium-size blue rectangular shape to form the main entrance door and two small rectangular shapes to form two windows and stick them on to the box.
Similarly, make five rectangular shapes and stick them on the upper side of the rectangular box for form windows.
Next using black char paper form black strips and paste it to all windows and doors to form their borders.
Take another piece of rectangular cardboard and draw ambulance van on it. Cut it and stick white chart paper on top of it using fevicol.
Create a door and window of the ambulance van and paste plus size to it. Take two circular cardboard and cut it, paste blue color paper on to it to form wheels of the van.
Outline the borders and inside of the van with a black sketch pen to complete it.
Take two medium size rectangular cardboards pieces and stick them together and the paste white char paper on top of it.
Take four pieces of small rectangular cardboard pieces and stick them together to form two pairs and paste white chart paper on top of it.
Take a medium size rectangular cardboard piece and paste white chart paper on to it.
Apply hot glue and stick the main hospital box on top of it and mark it as the hospital with label and next form the terrace on the building. Create small corridor at the entrance of the building.
Take a big size rectangular size cardboard piece and paste white chart paper on to it and paint it with brown color.
Attach the white cardboard with the main hospital on top of it. Form the road in front of hospital and attach small shrubs and trees around the hospital with the help of hot glue.
Next, place the ambulance van in from of the hospital on the road and stick it with hot glue and few doctors in front of the entrance of the hospital. Now the entire hospital model is complete.
Materials Used
Materials used in this video are shown below to build hospital model at home by taking the help of your parents.
White and color chart paper
Scale
Pencil
Waste Boxes to get cardboard
Sketch pen
Scissor
Questions & Answers
1. What Differentiates the Various Types of Hospitals?
Functionality, size, location, ownership, and specializations.
2. What is the main purpose of a hospital?
The main purpose is to provide medical care to patients in need.
Conclusions
Hospital model helps students to learn about hospital and their functions and as well as how to make it with easily available materials at home.