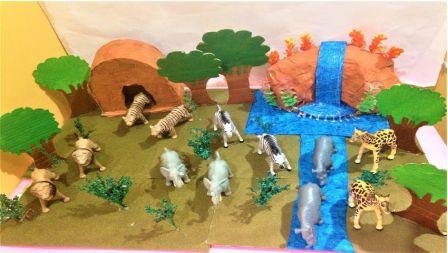 Introduction:
A forest is a large space filled with trees and animals living in their natural habitat. Forests are of various types.
Based on the location of a forest its density and the inhabitation of animals vary. The animals present in forests are wild and work according to the food chain.
Forests are large masses of land consisting of water bodies, various types of trees and a whole eco system within them. There are about 14 types of forests in India. According to the type of forest its vegetation also varies.
The animals present in each type of forest are also unique and there is a factor of adaptation that should be considered. Some of the types of forests are evergreen forests, deciduous forests, mangrove forests, thorn forests and tropical forests etc.
The vegetation in these forests varies according to factors like the amount of rain the forest region receives and the type of soil that is present in the forest.
The video shows you the idea how to make a model of the forest ecosystem for class 6 and class 7 students, using easily available materials and a sense of creativity.
Materials required:
Cardboard
Scissors
Plastic or toy animals
Glue gun
Modeling cardboard
Fevicol
Newspaper
Paint and paint brushes
Colour paper
Scale
Pencil
Plastic trees
You use the resource/tools page section to find the tips where you can buy these materials used at a reasonable cost.
Detailed Video Show How To Make FOREST MODEL FOR A SCHOOL SCIENCE EXHIBITION PROJECT
Questions and Answers:
What are the different types of forests present in India?
There are 14 or more different types of forests present in India. They are wet evergreen forest, semi evergreen forest, moist deciduous forest, dry deciduous forest, littoral and swamp forest, mangrove forest, dry evergreen forest, thorn forest, sub-tropical broad-leaved forest, subtropical pine forest, subtropical dry evergreen forest, montane wet temperate forest, montane moist temperate forest, montane dry temperate forest and sub alpine forest.
How much land area on an average do forests in India cover?
The land area of forests in India is about 67.83 million hectares, which is about 20% of the land in the entire country. It is known for its diversity in not only the types of forests present but also with respect to flora and fauna.
What are the animals that can be found in the forests of India?
Among many common varieties of animals, there are around 7 rare and exotic animals that can be found in the forests of India. They are the greater one-horned rhinoceros, the Nilgiri tahr, Bengal tigers, Asiatic lions, Black buck, lion tailed macaque and the snow leopard.
What is the Indian movement associated with trees and forests?
The movement that was associated with trees and forests in India is the Chipko movement. This movement started with people embracing trees to prevent them from being cut down. It was started to prevent rapid deforestation.
Conclusion:
Forests are an important part of the eco system. They play a vital role in the bringing of rainfall and for other reasons as well. India has some of the densest forest etc.