In this video post we write about making of the solar irrigation system model making using cardboard – diy – agriculture model
Creating a solar irrigation system model using cardboard, paper, a paper cup for water storage, a plastic tray as a water well, a ball as sunlight, a cardboard tray with plants, cotton as water flow, a cardboard solar panel, pipes, and a cardboard pump is an innovative way to learn about sustainable irrigation methods.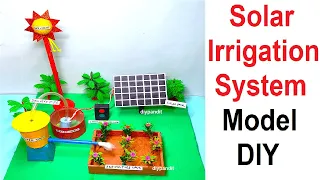 Here's a step-by-step guide on how to build this model:
Materials You'll Need:
Cardboard sheets (for structure and components)
Paper or cardboard (for crafting components)
Paper cup (for water storage)
Plastic tray (as the water well)
Small ball (to represent the sun)
Cotton or string (for water flow)
Small plants (to place in the tray)
Craft knife or scissors
Hot glue gun and glue sticks
Craft supplies for decoration (markers, stickers, etc.)
Steps to Build the solar irrigation system model
Prepare the Base:

Cut and assemble cardboard pieces to create a stable base for the model.

Create the Water Storage Cup:

Attach a paper cup to the base to represent the water storage tank.
This cup will hold the water to be used for irrigation.

Build the Water Well:

Place a plastic tray near the water storage cup to represent the water well.
Fill the tray with water to act as the source of irrigation water.

Position the "Sun":

Place the small ball (sun) above the setup to simulate sunlight.

Set Up the Plant Tray:

Create a cardboard tray with plants placed in it to simulate the irrigated area.
Position the tray in a way that it can receive water from the system.

Create Water Flow Path:

Use cotton or string to create a path from the water well (plastic tray) to the plant tray.
This represents the flow of water from the source to the plants.

Craft the Solar Panel:

Create a cardboard sheet to represent a solar panel.
Attach it above the model to receive the "sunlight."

Add Pipes and Pump:

Use additional cardboard pieces to create pipes connecting the water well to the plant tray.
Craft a cardboard pump to move the water from the well to the plants.

Test the Model:

Position the model in a well-lit area where the "sun" (ball) shines on the solar panel.
The solar panel will power the pump, and water will flow from the well to the plant tray, irrigating the plants.

Decoration:

Decorate the model with craft supplies to make it visually appealing and informative.
This model helps demonstrate the concept of using solar energy to power an irrigation system, emphasizing sustainable and eco-friendly practices. It's an engaging and educational way to learn about renewable energy applications and efficient water management in agriculture.
#solar #irrigationsystem #irrigation #modelmaking #agriculturemodel #diypandit #scienceexhibition #sciencefair #scienceproject