Introduction:
A solar eclipse is caused when the earth passes through the shadow cast by the moon and partially or fully blocks the rays of the sun.
This can only occur when the sun, the moon and the earth are nearly aligned on the same line.
The lunar eclipse occurs when the moon passes directly behind the earth inti its shadow. This occurs when the three bodies are closely aligned.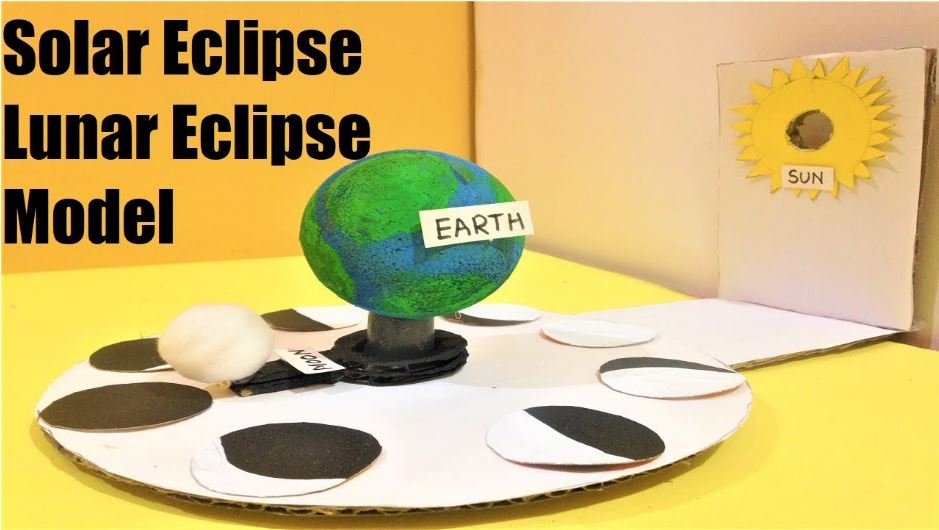 Materials required:
Cardboard
Bangle
Pencil
Paint
Paint brushes
Newspaper
Modelling cardboard
Scissors
Fevicol
Small ball
Cotton
Sponge ball
Coloured paper
Markers
Light source
You use the resource/tools page section to find the tips where you can buy these materials used at a reasonable cost.
Detailed Video Show How To Make SOLAR AND LUNAR ECLIPSE 3D WORKING MODEL FOR SCHOOL SCIENCE EXHIBITION PROJECT
Questions and Answers:
What is a solar eclipse?
 A solar eclipse occurs when the moon passes in a direct line between the earth and the sun. The moon's shadow travels over the Earth's surface and blocks the sun's rays.
There are primarily three types of solar eclipses.
They are total, annular and partial. If the umbra passes over you, it is the total solar eclipse, whereas if the penumbra passes over, it is a partial solar eclipse.
 Lunar eclipses occur once the moon and also the sun are on opposite sides of the world. This is most often during a full moon.
There are three types of lunar eclipses, they are penumbral lunar eclipses, partial lunar eclipses and total lunar eclipses.
What is the distinction between a solar eclipse and a lunar eclipse?
 When a solar eclipse occurs, the earth is aligned with both the sun and the moon. The three celestial bodies are almost in the same line.
Whereas, for a lunar eclipse, the earth is in the middle of the sun and the moon and they are on either side of the earth.
The solar eclipse occurs usually when there is no moon, and the lunar eclipse when the full moon cycle occurs.
How often do eclipses occur?
Eclipses occur on an average at least two to four times a year. They are fairly numerous.
Although a total eclipse happens only once in a few hundred years. Eclipses are merely the shadow of one of the celestial bodies on the other.
Conclusion:
The video tells you how to create a working model that will exhibit both the solar and the lunar eclipse.
The materials used are mostly available and the time required to create the model is short. It is however extremely helpful in the understanding of the concepts of solar and lunar eclipses.